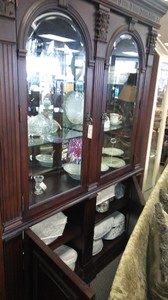 When and How to Downsize
Posted on Jan 22, 2020
Posted by Larry Dean
The reason to downsize varies, but usually it's due to:
· Loss of a partner, or death in the family
· Health forces a move to independent or nursing home living
· Move to a new location
In many cases, it is difficult to find the right home for valued items. You discover your children or grandchildren are not interested in taking your collections of cookie jars, silver plated serving pieces, china sets, crystal, china hutches or even paintings or other artwork you no longer need. They have value; however, they don't captivate the next family generation's attention like they did for you. Or, simply face the fact, your family members may already have all the furniture and decor they can handle in what is often a smaller home than yours.
The same dilemma is often true when you lose a loved one. Many times the reason you have held onto certain items was your partner's love of those items, and that person is no longer there to enjoy those things that you only held onto to please your departed mate.
And, you are competing with others also wanting to downsize. With roughly 10,000 Baby Boomers turning 65 EVERY day, and about 10,000 more crossing that threshold every day for the next 20 or so years, a very large segment of our population has already started downsizing. The children are out of the nest, and those personal possessions once thought of as being indispensable are now no longer a necessity.
Despite the challenge of finding a new home for these items, it is still a task that is often essential to being able to safely age in place. An overcrowded home rarely works well when you age in place. And, if you are moving to a smaller living space the need to downsize is imperative. An estate sale or online estate sale or auction may be a choice to consider for clearing space in the home.
It costs nothing to explore your options about downsizing. The 1-2 Another staff is trained on how to maximize a return on your investment, and even more importantly give you advice on how to best downsize. Give us a call at 913-909-3749 to explore your options.
---
Back to Blogs