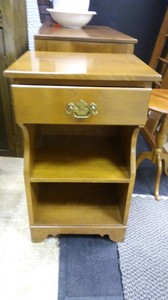 Why our online estate sale auctions are a solution when downsizing
Posted on Nov 28, 2020
Posted by Larry Dean
Why & When to Consider an Online Auction of your Estate Items
The a

uction gives you a way to quickly and permanently downsize your items.

Our online auction service eliminates the crowd associated with a traditional estate sale, garage sale or on-site auction. (a true advantage during COVID-19)

Auctioning almost always brings you more income than having a garage, yard or driveway sale; and remember, we do all the work for you - no pricing of items, dealing with the public, no price negotiating, no worry about the weather, etc.

The general public determines the final selling price or perceived selling value; therefore, no pricing issues exist (and you can place a "Reserve" on certain items).

Eliminates Family Issues: I

f you have items that more than one relative wants, but you don't want to disappoint someone by giving the item to only one relative, then they can bid on the item during the online auction. If you are dividing the proceeds of your auction among the relatives, they can use their share of the income to help pay for those items they decided to bid on.

We conduct the auction from your home on the items to want to downsize, and only the high bidders will come at a predetermined time to pick up their items (and, again, we will be there to do all the work, collect payments and do the handling of your items for you).

1-2 Another accepts credit cards ... the prefered method of payment by most buyers. And, we absorb the processing charges of the credit card company.

Please no clothing, perishables, or items that are damaged. We rarely auction any item that is damaged.

You control what to do with any item that fails to receive a bid, or fails to meet the minimum "Reserve" price you have established. Our normal practice on a large number of unsold items is to feature your unsold items in a subsequent auction from your residence with a starting price being half the amount used on the initial auction. However, you can also elect to keep the unsold items, or ask us to haul away any unsold item.

We have a minimum

fee of $50 when you initiate an online auction, plus a processing fee on each Lot you place in the auction. We then pay you up to 65% of the revenue received. And on high ticket items, you will earn even more when the Lot sells.

Not all situations warrant having an in-home estate sale. Most Sellers find they are better suited for one of our online estate sale auctions.
If you want to discuss your specific situation, please call or send a text message to Larry Dean at 913-909-3749, or send an email to: Larry@1-2Another.com
---
Back to Blogs