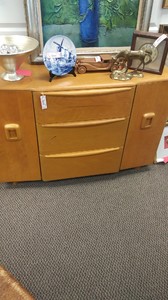 Online Estate Sales
Posted on Apr 24, 2018
Posted by Larry Dean
1-2 Another can downsize many of your items from your residence using our "online" estate sale concept. This service is an advantage to you when:
· you don't want a large number of individuals walking through your residence like they do on a regular estate sale,
· you lack the number of items to conduct a typical residential estate sale,
· you have antiques or other items that may have a broader appeal, more so than local potential buyers, or
· you have Homeowner Association restrictions or parking limitations which prevent regular estate sales.
How our Service Works:
1. Your items are marketed both locally and nationally online for 7 days. Locally there over 16,000 individuals (and more than 1 million nationally) that have opted in to receive notices about our estate sales.
2. You receive 60% of the gross revenue.
3. Buyers pay for their items using our online credit card processing system. We pay all fees involved.
4. As few as 25 items are required to conduct the sale from your residence.
5. The minimum earnings by 1-2 Another is $250 if we conduct the sale from your residence.
6. If you have fewer than 25 items to downsize, or if you want to be assured you don't have a minimum fee, you may bring your items to our warehouse, or for a small fee we will pick up your items, and then we will combine them with other estate sale items and conduct the estate sale from our facility.
7. No minimum earnings or number of items are required as long as you bring your items to the 1-2 Another warehouse.
8. Clothing, used standard kitchen items, perishable or damaged items are excluded.
9. Prices remain firm an entire 7 days. We assist you in setting the prices, based on our experience in the estate sale market.
10. If an item does not sell, then it is relisted (at no cost to you), for another 7-day sale.
11. On the second sale attempt, your items are reduced 25% of the initial sale asking price for the first 4 days, and on Days 5-7 prices are reduced by 50%.
12. Your remaining sale items after the second sale attempt are picked up by 1-2 Another for no extra charge, where they become part of an online auction, with 50% of the high bid going to 1-2 Another to cover the added cost of retrieving the items.
---
Back to Blogs