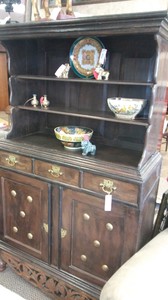 Why you should consider consigning your items with 1-2 Another
Posted on Mar 6, 2018
Posted by Larry Dean
Advantages of Consignment
You receive 60% of the revenue when your item sells.
There is a Monthly Merchandising Fee equal to 5% of the selling price, as long as your item remains unsold after being marketed in our showroom over 30 days.
No booth rental fee, advertising expense, commitment to donate your time at our showroom, no need to constantly merchandise your items ... we do this for you!
Unlike Ebay, Craig's List and other local online selling sites, consigning eliminates having to update photos and other information about your items, and having to coordinate information with, and then arrange to meet individuals that express an interest in your item (if they actually even show up when promised).

You don't have to reveal your personal address or phone number to the potential buyer.

We accept all forms of credit cards, the preferred payment method of most buyers. And, there is no extra charge for this service, even though 1-2 Another pays a fee.

When we sell your items you don't have to worry about how to get your items to the buyer.

Our showroom is open to the public where individuals like to shop; when you sell direct to an individual you often need to alter your personal schedule just to meet them so they can see your item, let alone actually sell your item.

Consigned items generally sell for a higher price than you will receive in a garage sale, an online auction or an estate sale.

The public is not tracking through your home, or stomping out your landscaping, as often occurs with an estate sale. Also, you don't have as much risk of theft, parking issues, or homeowner's association rules.

Quite often individuals don't know how to price gently used items for sale. Our staff is trained on how to properly price your items, with you having the final say as to the asking price. Remember, the more it sells for, the more we also make! However, your price needs to be reasonable for previously used items.

We just don't want the items to sit for more than 90 days, due to overpricing.

The idea is to downsize, not simply maximizing your income. Consignment permits getting your items away from your home, rather than paying to have them stored.
---
Back to Blogs