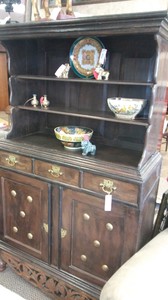 Why you should consider consigning your items with 1-2 Another
Posted on Oct 18, 2017
Posted by Larry
Advantages of Consignment
There is no stocking charge, booth rental fee, advertising expense, commitment to donate your time at our showroom, etc.

Unlike Ebay, Craig's List and other local online selling sites, consigning eliminates having to constantly update photos and other information about your items, and having to coordinate information with and meeting individuals that express an interest in your item (if they actually even show up when promised).

You don't have to reveal your personal address to the potential buyer.

We accept all forms of credit cards, the preferred payment method of most buyers.

When we sell your items you don't have to worry about how to get your items to the buyer.

Our showroom is open to the public where individuals like to shop; when you sell direct to an individual you often need to alter your personal schedule just to meet them, let alone actually sell your items.

Consigned items generally sell for a higher price than you will receive in a garage sale or estate sale.

The public is not tracking through your home, or stomping out your landscaping, as occurs with an estate sale. Also, you don't have as much risk of theft, parking issues, or homeowner's association rules.

Quite often individuals don't know how to price their items for sale. Our staff is trained on how to properly price your items, with you having the final say as to the asking price.

We attempt to advise pricing that will move your item quickly. However, the more you make, the more we make. We just don't want the items to sit forever, due to overpricing.

The idea is to downsize, not necessarily trying to maximize your income, and getting your items away from your home.
---
Back to Blogs